Welcome to Vincents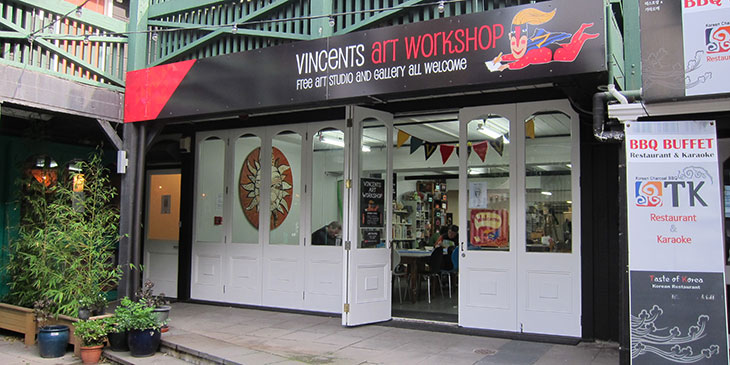 Vincents Art Workshop is a fantastic award-winning art studio in downtown Wellington. Vincents celebrates diversity and welcomes all people – whether you have done a lot of art, or none at all. And it's free!
We offer …
A warm welcome.

Art materials, equipment, expertise and inspiration.

A place to learn new skills and explore your creative side.

A safe environment to work in.

Friendly, helpful tutors who are skilled artists.

Opportunities for artists to exhibit their work.

A chance to work on community art projects.

A day just for women (Thursdays).
We are located at Willis St Village, 5 / 148 Willis St.
Vincents Art Workshop AGM
The Vincents AGM is not on the 6th December as previously advertised. Apologies for any inconvenience caused.
Covid 19 Update
We are finalising our procedures for the new COVID-19 Protection Framework. In the meantime, as of this Saturday 4th December, we will be continuing with the current settings as we were in Level 2.
The Main Studio will be open for up to 10 artists for two sessions per day, and one session on Saturday.
Artists will be able to book in for one session per day by phoning on 499 1030 or talking with staff when they are in the studio. There may be spaces for walk-ins depending on numbers booked in for the session.
We will be offering New Artist Orientations for one person at a time (plus a support person if required). 10:15-10:30am Mondays, Wednesdays and Fridays. These will need to be booked in advance.
The opening hours will be:
Monday 10:30am – 1:00pm and 2:00pm – 4:30pm
Tuesday 10:30am – 1:00pm (Tutored Workshop) and 2:00pm – 4:30pm
Wednesday 10:30am – 1:00pm and 2:00pm – 4:30pm
Thursday 1:00pm - 3:30pm (Women only)
Friday 10:30am – 1:00pm and 2:00pm – 4:30pm
Saturday 10:30am – 1:30pm
Masks or face coverings must be worn in the studio and while queueing outside.
If you don't have access to art materials at home, please talk to us and we may be able to arrange a delivery of art materials or your works in progress.
Artists attending Vincents will need to observe social distancing including being spaced 2 meters apart while waiting outside the studio. Artists will have an allocated area to sit and work in during the session to maintain at least a 1 metre distance between artists.
Most of the art materials in the studio will be available, some of which will be issued by staff at an 'Art Bar'.
There will be no eating in the studio. You may bring your own water bottle.
We will be commencing Tuesday Workshops from 2nd November between 10:30am – 1:00pm. These will be for up to 8 artists and social distancing rules and mask wearing will apply.
We are currently trialing a return to Life Drawing Sessions. They will be available once a week on Thursday evenings between 7pm and 9pm. There will be a maximum of 10 people per session and the fee will be $10 per person. These sessions will run until the second week of December. We will then reassess whether we can continue in 2022.
The Pottery Room will be open for 2 people per session in the hand building / throwing area, and 1 person per session in the glazing area which will need to be booked in advance.
The Tool Workshop will be open for one person per session which will need to be booked in advance.
Access to the toilets will be one person at a time.
There will be no regular Eating Meetings or gallery openings.
The gallery will be open for visitors. All visitors must follow our guidelines.
Artists will need to tidy and clean their own workspace 15 minutes before the end of the session.
Disinfectant and gloves will be supplied to wipe down surfaces.
During the break between sessions staff will check that cleaning has been done thoroughly. Staff will also regularly clean door handles, handrails, taps, sinks etc.
This policy will be reviewed regularly.
Vincents will be closed:
29 November - 3 December for Semester Break
Any works in progress must be clearly labelled with the current date and your name. Please let the staff know if you need help with this! Anything that is not labelled may be thrown out or recycled.
New Artist Orientations
Fridays 10:30am
You will need to attend a New Artist Orientation before you can use the studio, attend a Tuesday Workshop or use the Clay Room.
The orientation will take about 15 minutes and will introduce new artists to the kaupapa of Vincents including values, behavioural guidelines and expectations.
This will also include a general tour of the studio and a time to complete registration forms and art plans.
We will be taking bookings for up to 10 people each week.
Orientations can be arranged outside of these times for people referred from other organisations, those attending with support workers and those wanting to attend on Women's Day.
If you want to use the Clay Room you will also need to book in to attend a Clay Room Induction (see below).
Clay Room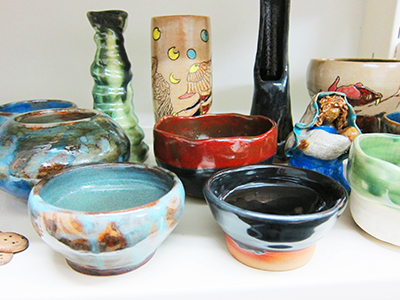 Vincents Clay Room Inductions
You will need to book in to attend a Clay Room Induction before you use the Clay Room.
Due to the huge increase in popularity of the Vincents Clay Room, we are now offering weekly induction sessions for those wanting to use our clay room for the first time. You may book in for a session once you have already attended one of our weekly New Artist Orientations.
These sessions will involve a Health and Safety induction, an overview of how to create ceramic artworks in the room and a demonstration of basic handbuilding techniques including pinch pots and joining methods.
There will be a limit of 8 people per session so you will need to book by calling us on 04 4991030 or talk to staff when you are at Vincents.
The sessions will begin at this time:
Wednesdays 3:00pm
This will be the only time that you can have an induction to the clay room. You will also need to do this if you want to attend one of our Tuesday Workshops involving clay. The clay room will be closed to other artists from 3:00pm on Wednesdays so we have enough space in the room.
Please be on time for the session or you may miss out. If you are attending the Wednesday session, please arrive by 2:45pm.
Vincents' Artist Group on Facebook
We have created a Facebook group for any Vincents artists to join.
Through the creation of a positive and supportive environment many people have found their involvement in Vincents to be therapeutic. Vincents offers a unique model that uses the creative process to help resolve the internal conflicts a person may be experiencing, enabling the development of self-esteem and individual potential.
During this time of Alert Levels, we offer this page as an extension of Vincents. It can be a way to continue to explore art and creativity and to stay in touch with each other.
Please click on the link below and request to join the group:
https://www.facebook.com/groups/218379032576510/
Materials Donations
Vincents Art Workshop relies on donations of art materials and equipment so our artists can continue to explore a wide range of art mediums. Donations of the following are always appreciated:
Artists' acrylic paints
Artists' oil paints
Paint brushes
Printing and Screen Printing inks
Good quality paper e.g. watercolour paper
Wool
Tools
Sewing Machines in good working order
Wood (especially sheets of plywood)
We can turn almost anything into works of art!
Please contact us on 4991030 or by email vincentsartworkshop@xtra.co.nz if you are able to help.