Picture & Video Archive
Vincents Documentary
Watch a short documentary about Vincents Art Workshop. Made by Reuben Commons, Reuben Nicolas, Alexandra L Rooji and Sacha Leonidas.
Curators of Wellington interview
Curators of Wellington: Vincents Art Workshop with Glen McDonald and Andrew Mitchell
In this episode of a conversation series with the small galleries, creative spaces and artists that make Wellington sing, Suzanne Tamaki visits the dynamic, remarkable art workshop Vincents in the Willis Street Village, which welcomes people from all sectors of society to express themselves. She catches up with director Glen McDonald and senior tutor Andrew Mitchell, introduced to the diverse facilities. Among the artists working, Dan Ross and Beth Mays, whose work is currently being exhibited.
You can go to 'Curators of Wellington' on the Cubadupa website to see more videos. These are being posted by Cubadupa, Artexplore and WellingtonNZ social media channels as they are rolled out. Curators of Wellington is supported by 28 galleries and Wellington City Council and is presented by Cubadupa and Artexplore. It is produced by Mark Amery for the Welllington Independent Arts Trust. Videography by Shyam Patel and Oscar Keys. Music: Aldoc.
Daily Encourager article about Vincents
Here is a link to an article about Vincents from Daily Encourager, featuring artist Jack Polly:
https://dailyencourager.co.nz/the-art-of-changing-lives/
Stuff article about Vincents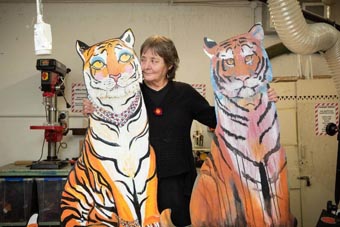 A big thanks to Stuff reporter Bess Manson for this fabulous profile of Vincents Art Workshop. You can read it online
Artist Profiles:
Alexandria Tasker
Hilary Stapels
Ben Sampey
Jack Polly
Shannon Dwyer
Rhonda Swenson
Exhibitions:
Vincents Gallery showcases the talents of artists who use Vincents Art Workshop. The gallery hosts regular exhibition openings of solo, group and themed shows and is open to the public during our studio opening hours. We also have a stock of other artwork available for sale.